Whether you are a local or regional hobbyist, cross-country aviator or working in the aviation or aerospace industry, Calhoun County Airport (F95) has something for everyone. Located in the heart of the Florida Panhandle, 5 miles northwest of Blountstown, FL on State Road 71, F95 offers 24-hour fuel, new and renovated hanger space and a world class air terminal (opening 2021).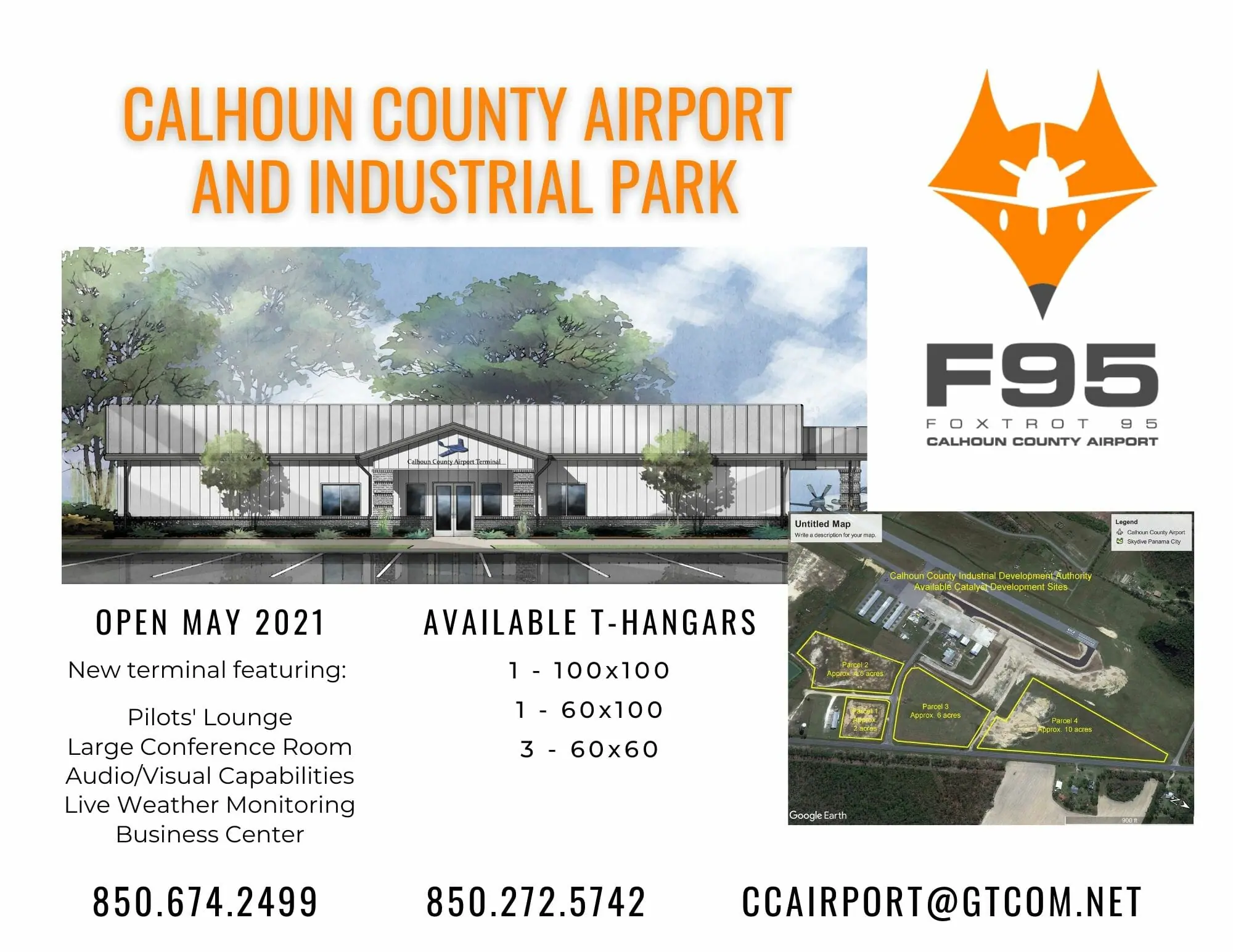 15 miles south of Interstate 10 on State Road 71, northwest of Blountstown with municipal airport on-site
Direct access to State Highway 71.
Proximity to Interstate 10 and State Highway 20 and 69.
Access to U.S. Highways 231.
AIR Small municipal airfield on site; Panama City International Airport, serving Delta/ASA, Northwest Airlink, U.S. AirExpress; Tallahassee Regional Airport serving Delta/ASA, Continental, Dothan, AL Airport, serving Delta/ASA, Northwest Airlink.
PORT Access to Port St. Joe, Port of Panama City and Port of Pensacola
RAIL CSX and Apalachee-Atlanta- St.Andrews Railroads
TRUCK All common carriers
PARCEL All major carriers
Calhoun County Recycling Center, Calhoun County Sheriff's Department, Florida Division of Forestry, Calhoun County Airport
ELECTRICITY Gulf Power Company
NATURAL GAS Calhoun County
TELEPHONE GT Comm
WATER Calhoun County, 250 GPM well and 120,000 elevated tank on-site
SEWERAGE Calhoun County
REFUSE Private Container
DRAINAGE Storm System
Looking for more?
Find local businesses and organizations in our online directory!